The unicorn fad has been around for a while and doesn't seem to be stopping any time soon. With my daughter, it's Unicorn EVERYTHING, so I can only imagine houses with multiple girls.
Parties are a big time to use unicorn food ideas to help make unicorn themed food to serve guests but you can enjoy them anytime at home too. There's really no bad time to enjoy tasty unicorn snacks. 😉
Check out this round up post of over 20 great unicorn food recipes that are sure to give you inspiration for parties and everyday snacking.
21 Great Unicorn Food (and Drink) Ideas
With easy canned biscuits and cream cheese it's not hard to make this tasty unicorn bread! It looks vibrant and tastes great too.
These gluten free unicorn poop cookies are great for allergy friendly party guests or family/friends. With colorful swirls of cookie, you're going to want to eat this "poop."
With vibrant colored buttercream sandwiched between two sprinkle cookies like this, you know they're going to taste great before you even take a bite. Made with boxed cake mix these are a simple to make treat that everyone can enjoy.
Who knew unicorn poop could be so light and airy? These meringue cookies are covered in colorful sprinkles and look almost too good to eat!
With several different types of chocolate in every paper lined bite you know this unicorn candy is going to be a huge hit with every chocolate lover (aren't we all?)
Who doesn't love eating raw cookie dough now and again? This unicorn cookie dough is safe to eat because the flour is toasted and there are no eggs! Perfect for kids, pregnant women, and everyone in between. Yum!
A delicious swirly unicorn dip for cookies or fruit! This is exactly what every unicorn party need to accompany the fruit trays!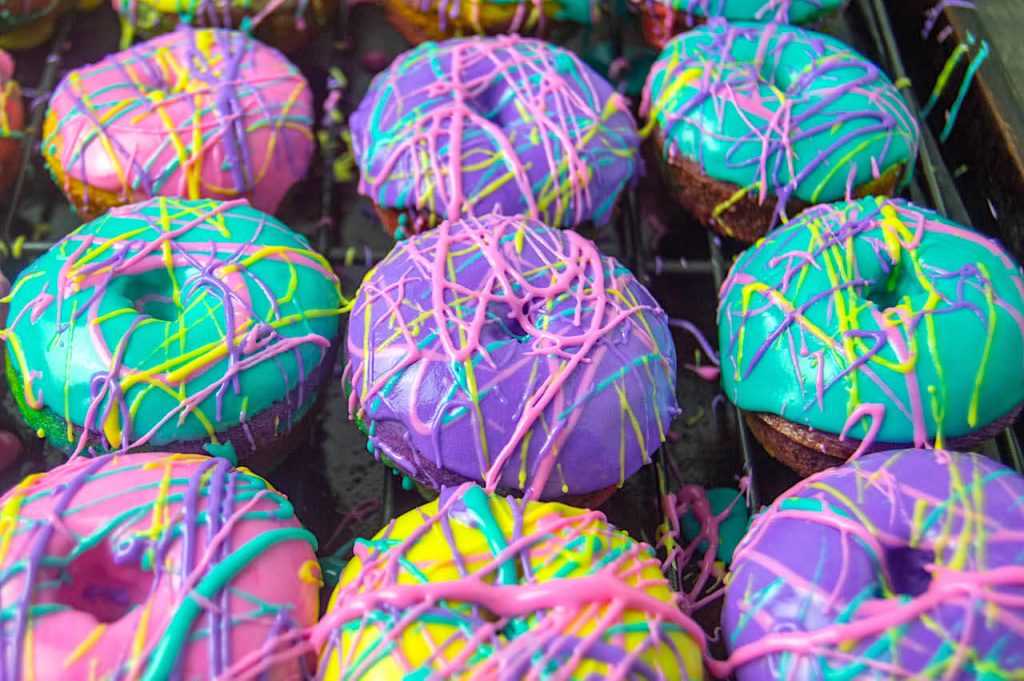 These easy to make cake donuts may use a box of cake mix and can of frosting, but that just keeps everything simple and delicious. 
Popcorn is a frugal and fun snack at home or at a party. It's like the one delicious thing people can agree on all of the time, and this unicorn popcorn recipe is something we can all agree looks incredible.
This unicorn bread is a banana bread made colorful, unique, and fun. Everyone loves banana bread, but this one can bring more excitement and pleasure to the table than any ordinary loaf of banana bread.
Unicorn cheesecake bars look as magical as they taste! With bright and vibrant colored cheesecake and a delicious crumble on top these bars are awesome and sure to be a big hit!
You don't have to be a professional cake decorator to frost these unicorn treats, in fact, the charm is in the unique hand frosted treatment each one gets.
Super easy to make unicorn rice crispy treats that are as flavorful as they are colorful. Made with Fruity Pebbles cereal these are a treat anyone can enjoy!
This super fun and easy unicorn cake started with a boxed cake mix and was upgraded to 3 colorful layers of tasty magical goodness.
What a fun way to start your day. With unicorn pancakes you can start the day with a simple and a full belly, because eating breakfast becomes magical and fun with these easy unicorn food ideas.
These unicorn cupcakes are so cute and have a taffy twisted horn that anyone can make! With adorable and edible unicorn cupcakes like this, dessert is covered.
A healthy unicorn frappuccino could be exactly what you need to drink to offset all of that food dye and added sugars. Check out this drink recipe that uses fresh berries and avocado to keep it paleo and keto friendly.
Candy buttons are a candy that's been around for decades often called penny candy because it only cost a penny (boy times have changed!) These unicorn poop candy buttons are just as easy to make and so much fun to share with friends in treat bags!
A fun colorful milkshake like this is something every kid (or adult) can enjoy drinking! Vanilla Ice cream, melted chocolate, whipped cream and sprinkles- it's what everyone dreams of.
A light and airy pink colored popcorn with unicorn horn sprinkles are a cool way to enjoy unicorn popcorn. Served up in magical unicorn boxes these make the perfect treats for staying in place or taking on the go.
And that's it! I hope you found some great unicorn food ideas for your next party or themed event. With all of these unicorn ideas it's hard to walk away without some incredible inspiration!