This simple 5 ingredient macaroni and cheese recipe is the base of all great cheesiness. Eat it straight from the pot or bake it in the oven for an easy baked mac and cheese. Either way, it's delicious!
I love mac and cheese; I mean, who doesn't? It's a comfort dish that gets thousands of searches per month as people seek out the perfect recipe.
I love this one best, though! It's just creamy and smooth enough to taste great while not making a pile of cheesy soup on my plate.
This recipe is meant as a "base recipe" meaning it's perfect or adding your own flavorful variations and twists. If you've never made mac and cheese from scratch before, this is the perfect recipe for getting the experience and confidence needed.
Check out all of the flavorful suggestions below for delicious ways you can customize your mac and cheese.
And don't forget that you can even turn the leftovers (assuming there are any) into some tasty Mac and Cheese Quesadillas the next day!
For more mac and cheese recipes, check out my 3 Ingredient Spinach Artichoke Mac and Cheese, Mac and Cheese Tuna Casserole, and Easy Cheeseburger Macaroni Skillet.
Jump to:
🍯 Why This Recipe Works
It takes less than 30 minutes. With this fast and simple creamy stovetop mac and cheese recipe, you can have a tasty dish in no time.
It's ready for anything! Serve it as a main dish or a side dish, and enjoy this quick and easy comfort dish for any occasion!
Perfect consistency. It's filled with great cheesiness, it's an easy recipe, and it's not too wet or too dry. In my opinion, these things are what make it perfect!
🥘 Ingredients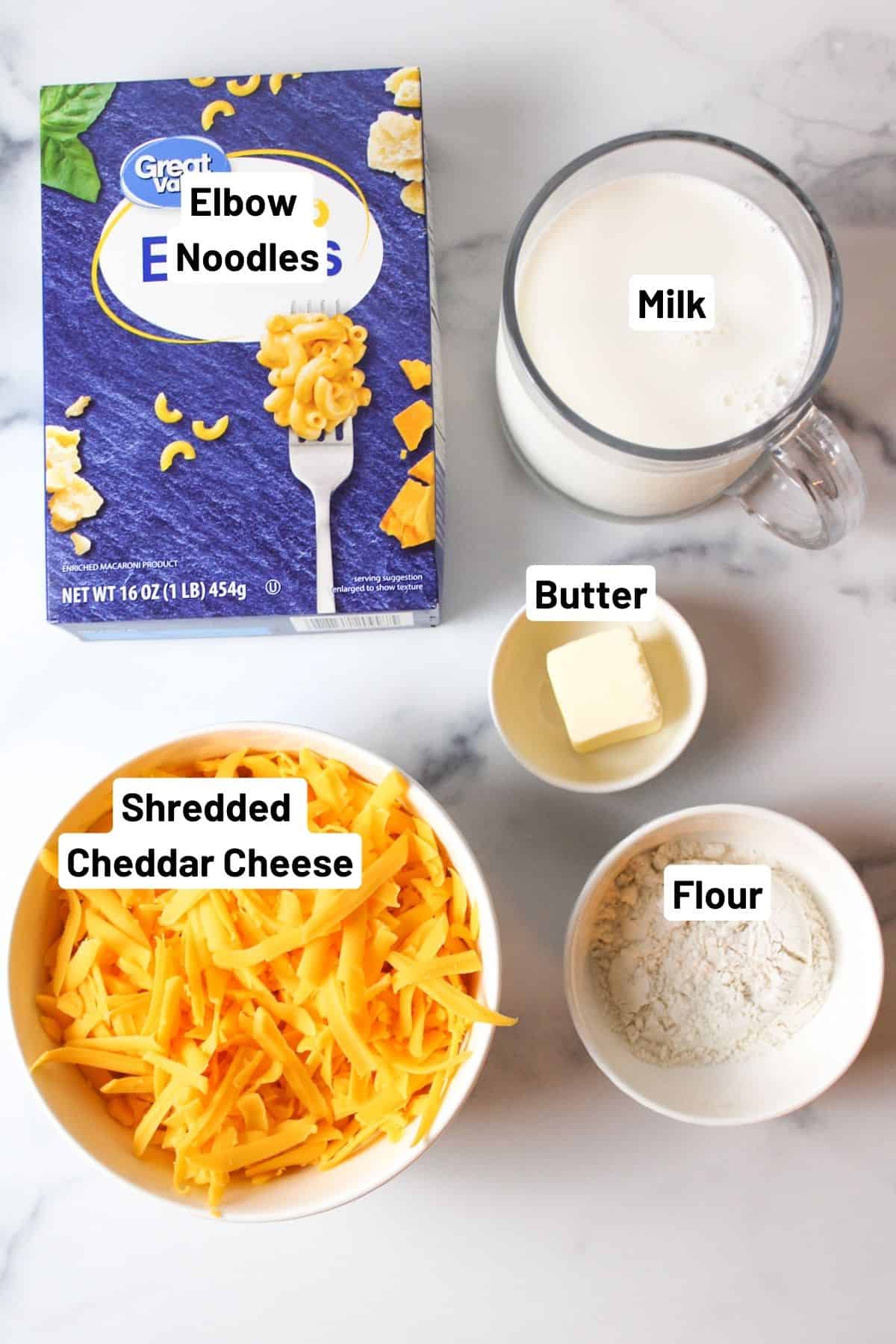 Ingredient Notes:
Butter- You'll need to use butter (although margarine works too) to start the homemade roux sauce. You can use salted or unsalted butter, depending on what you have on hand.
Shredded Cheese- I like to use sharp cheddar cheese, but any good melting cheese works perfectly here!
Milk- To make the sauce smooth and creamy, use a fattier milk. Unsweetened almond milk, evaporated milk, or even soy milk may be used in a pinch, but it just doesn't feel the same.
For specific ingredients and measurements, please see the recipe card below.
🧂Seasonings
This mac and cheese recipe is very basic and plain because it's a great BASE recipe to build up from. Perfect for first time cooks or those wanting to add their own flavor spin to things.
Adding salt and pepper is a personal preference, and these noodles should be seasoned to taste.
Sometimes I like to add a few dashes of cayenne pepper to the cheese sauce. Not enough to make them spicy, but just enough to add in a little color and help bring the flavors of everything out that much more (like an enhancer).
You can add in or change up the flavors however you wish. For a quick reference of ideas, feel free to add in some:
Garlic powder
Onion powder
Cayenne powder
Salt
Black pepper
Paprika
Smoked paprika
Ground mustard
🧀What cheeses to use
I personally love medium or sharp cheddar cheese in my mac and cheese recipes. They give that strong flavor and color that I like to look for. That said, you can use any cheese you prefer (or a mixture of cheeses).
Colby jack, mozzarella, and other shreddable cheese work great depending on the flavor and color you're looking for.
📖 Variations
Add in up to another cup of cheese for a richer taste if that's what you'd like. You can even combine different cheeses into the sauce. I often use 8 ounces of cheddar cheese in the sauce and then add in random bits of unused cheese from the week prior.
Meaning I could have 8 ounces of cheddar, a few slices of deli cheese, a chunk of mozzarella, or a handful of shredded parmesan in my sauce. This is one of my favorite ways to use up random cheeses!
🔪 Instructions
Step 1: Boil noodles according to package directions.
Step 2: Drain into a colander and set aside.
Step 3: While the noodles are cooking, melt your butter over medium heat in a medium-sized pot.
Step 4: Add in the flour and whisk until combined. It will create a few flour lumps. This is okay.
Step 5 Slowly add in the milk and whisk together until smooth.
Step 6: Keep whisking until the mixture thickens (about 2-3 minutes).
Step 7: Add in the cheese.
Step 8: Continue whisking until it's well-mixed and smooth.
Step 9: Pour the cheese sauce over the noodles.
Step 10: Stir to combine.
Scoop and serve.
Enjoy!
🍴 Recipe Tips
How to bake macaroni and cheese in the oven
These cheesy noodles taste great baked or from the stovetop. If you plan on baking it, use half of the requested flour because the noodle starches will help the sauce thicken. If you serve it from the stovetop, it's perfect as-is.
Place the cheesy noodles in a baking dish and then top with additional cheese (optional). Bake in the oven at 350F degrees for 15 minutes until the cheese is melted and bubbly.
🥗 Side Dishes
This recipe tastes incredible as a main dish on its own (especially if you sprinkle little bacon bits on top or mix diced ham into the noodles!
Meatloaf with Ritz Crackers and Cast Iron Green Beans are some great dishes to serve alongside this creamy macaroni recipe!
⏲️Make Ahead Instructions
If you plan on making it in advance (like a few hours or a day in advance of dinner), you'll want to keep it covered in the fridge until you're ready to heat and eat. In this case, I'd keep it in a covered baking dish and heat it in the oven because it's super simple to do.
Also, make sure to reduce the flour in the sauce by half (so only use 2 tablespoons) and cook the pasta until al dente, so it doesn't become too soft before serving.
👩🏻‍🍳 Storage
Fridge
Mac and cheese can be left well covered or in an airtight container in the fridge for up to 4 or 5 days in the fridge. You can reheat it a single serving at a time on a plate in the microwave for about 1-2 minutes.
Freezer
This is a great dish to make and freeze for future meals! Simply make it as directed and then place it in a freezer friendly baking dish, covered in the freezer, until you're ready to eat.
You can bake it from frozen or let it thaw in the fridge overnight or on the counter for a few hours before baking.
💭 FAQs
What noodle shape is best?
Oh, that's a tough question! Making mac and cheese with whatever noodles you have on hand can always be a winner with the kids. Even crazy rainbow rotini noodles can be seen as fun and exciting (although I'm not a fan of the color combination). Use whatever is on sale or that you have on hand and you can't go wrong.
Can I use gluten free noodles?
Yes, you can! I often find myself using rice noodles when my sister comes over for dinner and I swap out the flour for gluten free flour instead of all-purpose. This would make the dish gluten free (and celiac friendly).
Should you cover mac and cheese when cooking?
No, you shouldn't need to cover your macaroni when baking it. You want the top to become a nice golden brown color. If you notice the top is getting too dark for your liking, you can gently lay a piece of foil over the top to prevent further browning.
❤️ More Delicious Pasta Recipes
If you tried 5 Ingredient Mac and Cheese, please leave a ⭐️ star rating and share your feedback in the 📝 comments section below. I would truly appreciate it!
📖 Recipe
Print Recipe
5 Ingredient Mac and Cheese
A delicious and cheesy comfort dish that the whole family will enjoy! Serve it as a main dish or side dish. It's a fast and simple either way!
Cost
Recipe $3.57 / Serving $0.38
Ingredients
8

ounces

Cheddar Cheese (2 cups)

($1.99)

1

box

(16oz) elbow noodles

($1.00)

2

cup

Milk

($0.38)

¼

cup

All purpose flour

($0.02)

2

Tablespoons

Butter

($0.18)
Instructions
Make the noodles according to the package directions, drain and then set aside.

While the noodles are cooking, begin making your cheese sauce. In a small sauce pot, melt your butter over medium heat.

Add in the flour and then whisk to combine. It will create a few flour lumps, but this is okay.

Slowly add in the milk and whisk to combine. Whisk until the flour has dissovled and the mixture is smooth and thickened. (About 2-3 minutes)

Add in the shredded cheese and continue to whisk until melted and thick.

Pour the cheese sauce over the cooked noodles and stir to combine. Scoop and serve.
For baked mac and cheese
Place the cheesy noodles in a baking dish and then top with additional cheese(optional). Bake in the oven at 350F degrees for 15 minutes until the cheese is melted and bubbly.
Notes
You can bake the cheesy noodles in a greased dish with additional cheese on top for a different twist.
Experiment with additional spices like salt, pepper, garlic powder, onion powder, cayenne pepper, and paprika to enhance the flavor.
Various types of cheese can be used, such as medium and sharp cheddar, Colby jack, mozzarella, or a blend of shredded cheeses.
To make it gluten-free, use gluten-free flour and noodles.
Prepare the macaroni in advance and refrigerate it in a baking dish, then bake when ready to serve.
Leftovers can be stored in an airtight container in the fridge for up to 5 days.
You can freeze the recipe in a well-covered disposable baking pan for up to 3 months, and bake from frozen or thaw it before baking.
Nutritional Information
Serving:
1
serving
|
Calories:
322
kcal
|
Carbohydrates:
39
g
|
Protein:
13
g
|
Fat:
12
g
|
Saturated Fat:
7
g
|
Polyunsaturated Fat:
1
g
|
Monounsaturated Fat:
3
g
|
Trans Fat:
0.1
g
|
Cholesterol:
35
mg
|
Sodium:
188
mg
|
Potassium:
196
mg
|
Fiber:
2
g
|
Sugar:
4
g
|
Vitamin A:
376
IU
|
Calcium:
231
mg
|
Iron:
1
mg
Nutrition provided is an estimate. It will vary based on specific ingredients used. To view how this recipe was calculated you can visit my Pricing Disclosure Page for more information.