Finding affordable dinner options can sometimes be a hassle, but with this list of dinners under 10 dollars, you're sure to find some great options for your budget!
Eating on a budget doesn't have to be boring; in fact, you can learn How to Cut Your Grocery Bill and Still Eat Healthy. While healthy options may become a little harder, the overall goal is to find recipes that leave tummies satisfied, and these great meal ideas are sure to do exactly that.
Looking for a cheap menu plan this month? Check out my $200 Monthly Meal Plan for Family of 4!
When trying to reduce grocery costs, always start in the pantry. Looking for Frugal Pantry Staples to Keep on Hand can really help to make budget-friendly meals. But first, start with a no spend challenge to use up the odds and ends that are already in the pantry. This way, you can avoid food waste and save a little more money.
Once you know what you have on hand, you can look for recipes using those ingredients. Then the only shopping needed is to grab whatever else is needed to make affordable meals and recipes.
Check out our cheap family dinners under $10 below and see just how frugal you can make your Grocery Budget and Meal Plan.
Recipe $0.37 / Serving $0.04
The toppings on fry bread always vary, but one of the simplest and easiest topping options is a simple can of chili. With canned chili ranging from $1-$3 per can, you can easily make a dinner for the family for under $5. All additional toppings are optional!
Side note, simply topping with butter, jam, honey, or cinnamon sugar are great options for sweet treat variations.
Recipe $0.61 / Serving $0.15
Using leftover chili and a box of Jiffy corn muffin mix you can create a filling dinner that requires hardly any effort. This is perfect for leftover chili but 2 small cans of chili can be used instead.
Recipe $1.00 / Serving $0.13
Who doesn't like hot dogs? They're cheap, they're kid approved, and you can serve them up with just about anything and call it a meal. We usually opt for a box of mac and cheese ($0.50) and a steamed bag of broccoli ($1.00) for a total of $2.50, even after a cheap pack of ($1.00) buns, this recipe is frugal.
Recipe $2.79 / Serving $0.35
Growing up, my mom would serve us some fried tuna patties and 2 boxes of cheap mac and cheese ($1.00) and call it a meal. Adding a bag of steamable broccoli ($1.00) made it feel like a complete meal for under $5. We called it our "poor man's dinner," and now it's a nostalgic memory that we love to serve up to the kids.
Recipe $6.07 / Serving $0.75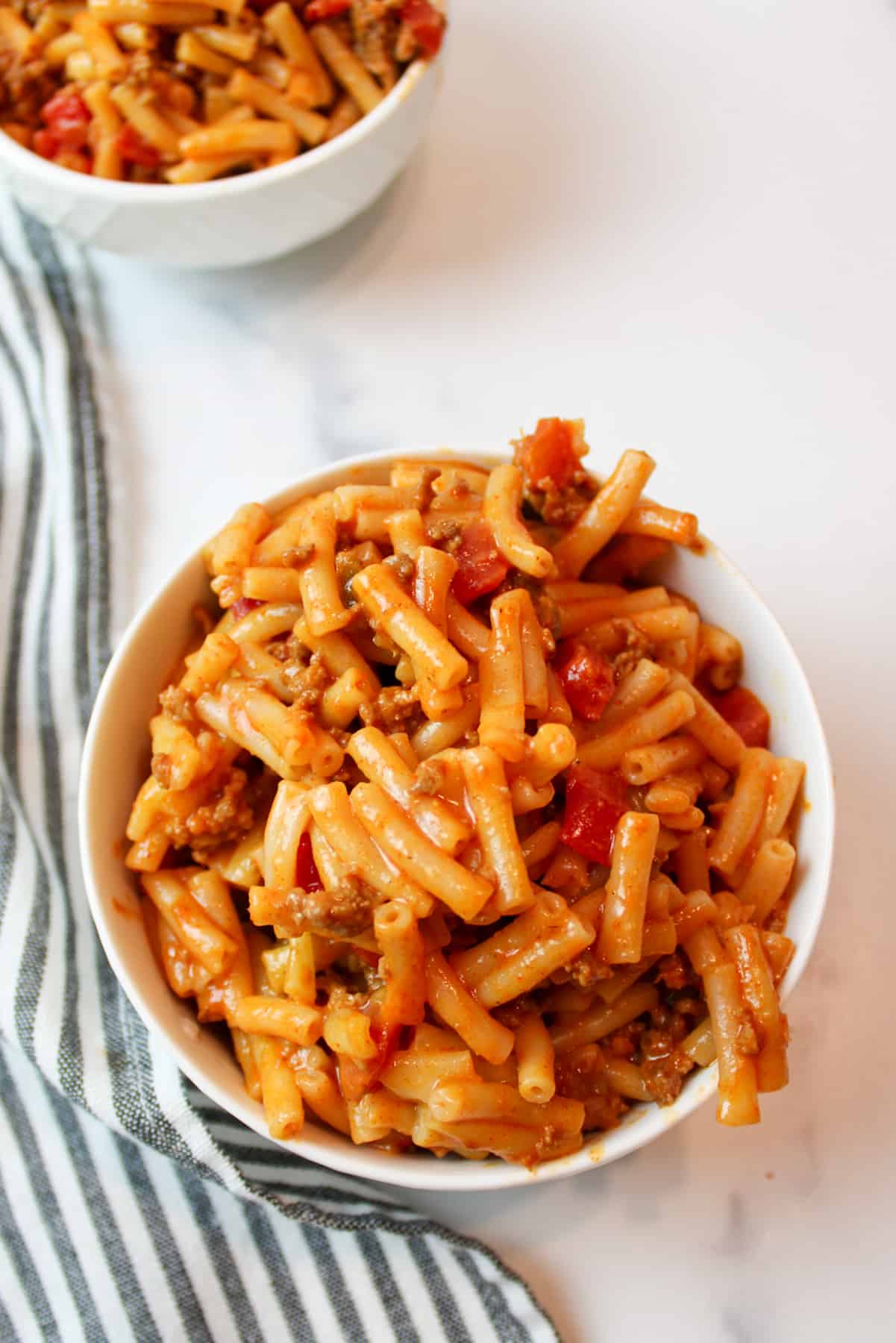 Make Taco Tuesday unforgettable with this inspirational twist. Taco Mac and Cheese made with Rotel. It's spicy, cheesy, comforting, and so delicious.
Recipe $4.07 / Serving $1.02
We love to use day old loaves of bread because they're marked down to half price, making this recipe even cheaper! Pizza sauce from the dollar tree and some simple toppings can really keep this recipe cheap and tasty.
You'd be surprised how filling it can be too. One loaf is usually more than enough for my family of 4, and that's with us eating until we're stuffed.
Recipe $4.97 / Serving $0.62
My pizza loving kids always get excited when I bring out the pizza pasta. We usually serve it up on its own, but if it's within the budget, we get a cheap loaf of garlic bread and a green salad served on the side. In total, it still comes up to less than $10.
Recipe $4.95 / Serving $0.62
This is one of those recipes that kids feel scared of at first, but once they try it, they're hooked. I've got 2 picky kids plus their two cousins, and despite hearing "I don't want to eat that," it's usually followed by them asking for second servings.
Side note, this is also my go-to meal when I forget to thaw meat for dinner haha.
Recipe $2.86 / Serving $0.24
Serve up this homemade sauce with a ($1.00) box of cooked pasta, and you can have a dinner ready in no time. Keep it meatless, or add some shredded chicken on top. We usually serve it up with a ($1.00) bag of steamed veggies.
Recipe $4.74 / Serving $0.59
With the cost of lunch meat varying so much, I usually find myself using 3-4 packets of the cheapest lunch meat I can find- the Buddig brand. A single packet costs under $1, and I can mix and match for better flavor, like ham, turkey, roast beef, etc.
This is one of our cheaper cold dinner options which we love when we're on the go or are looking for alternatives to turning on the stove in summer. Served with some fresh fruit like grapes or a bag of potato chips and this large sandwich is a full meal.
Recipe $3.87 / Serving $0.65
Made with just a few basic Pantry Staples, this is a great option for dinner when you don't have pasta sauce on hand. It's cheap, filling, and pretty tasty too. We love serving it up with ($2.25) garlic bread.
Recipe $3.88 / Serving $0.97
Only have one or two chicken breasts? Serving up some chicken bites is a great way to stretch the meat to feed everyone, especially when you serve it up with ($1.53) cooked rice.
Recipe $4.21 / Serving $0.70
Bacon fried rice is a great use for leftover white rice and a small amount of bacon too. Packed with ($1.00) mixed veggies and eggs, this dish is packed with flavor and color. Serve it up as a meal or a side dish, and it's sure to be enjoyed either way.
Recipe $8.85/ Serving $1.41
Casseroles are a great low-maintenance dinner for when you want something filling and comforting without breaking the bank. From the crispy tater tots to the cheese and creamy filling, this hot dish is one that never lasts long in my house.
Recipe $8.16 / Serving $1.02
Looking for another cold dinner option? Use some precooked or leftover taco meat and enjoy a cold salad for dinner with this easy recipe. A great alternative to Taco Tuesdays and one that encourages you to eat more greens.
Recipe $7.71 / Serving $0.96
This is another one of our go-to casseroles. Packed with so much deliciousness in every bite, I love that just one chicken breast can turn into such a filling meal.
Recipe $7.00 / Serving $0.87
This is another one of those recipes that I grew up eating. From the crispy cheese rice edges of the pan to the gooey melted cheese center, every serving it heavenly. I always go back for seconds, and if I'm lucky, there's leftover for lunch the next day too!
Recipe $9.49 / Serving $1.18
Why make boxed hamburger helper when you can make a much larger serving for about the same price? Plus side, it tastes even better too! Adding the tomatoes is optional, but I love the bright color contrast and the burst of flavor they bring to the plate.
Recipe $5.96 / Serving $0.60
This is my go-to lazy meal and adding shredding chicken on top helps to use up leftovers and add protein. I usually add chicken and cheese to the pot of cooked rice and place a lid on top until the cheese melts and the chicken is warmed, so I don't have to use that many dishes either.
Recipe $8.51 / Serving $1.06
Believe it or not, my kids actually love this one. I use my favorite dip from Walmart and some shredded mozzarella cheese to create a flavorful dish with minimal effort.
Recipe $7.39 / Serving $0.92
Cheesy, comforting and delicious, this is one of our favorite casseroles to serve up when the weather gets colder. Served as a dinner with a side of ($1.00) broccoli or using leftover bits of ham or bacon to make it feel like breakfast really makes it a unique experience each time.
Recipe $3.57 / Serving $0.38
I love to make mac and cheese from scratch, and this is the perfect base recipe because it's so cheap and easy. You can easily add to it and make it more filling or flavorful. Add in seasonings, additional cheeses, or even bits of diced ham, and it's always tasty.
Recipe $8.83 / Serving $1.47
Tuna noodle casserole is a great recipe to serve up for dinner because it already has protein, starch, and veggies, so it feels like a complete meal in one. Prep is easy, the price is cheap, and the leftovers taste great the next day too!
Recipe $8.72 / Serving $1.74
Making tater tot casserole in the instant pot is a fun variation of the classic dish. My family loves this casserole so much there are almost never any leftovers.
Recipe $8.91 / Serving $1.11
This isn't your typical potato soup. This is more like a cheesy potato stew. It's so thick and hearty that every bowl is very filling. We usually serve it with a side of buttered ($1.00) french bread.
Recipe $8.46 / Serving $1.06
As you can expect, this dish is a frugal alternative to Stove Top Beef Stew because we don't need to buy expensive beef stew meat. Check out the recipe for tips on using spaghetti sauce and other add-ins for a frugal way to use up odds and ends in the pantry.
Recipe $7.78 / Serving $1.95
We don't eat a lot of pork anymore because my daughter's food test came back saying she's sensitive to pork but having it in the diet here and there doesn't affect her, and this is one of our favorite meals.
Serve it up with a side of boxed stuffing ($0.88) and a side of steamed veggies ($1.00) for a full meal that everyone can agree on.
Recipe $7.69 / Serving $1.28
Packed with great summer veggies this recipe can be really frugal to make and easy too! I love to buy my gnocchi from the dollar tree because that's where I find it cheapest, but when baked like this it gets nice and crispy, yum!
Recipe $9.14 / Serving $1.52
This dish packs a little kick of heat so feel free to reduce the pepper flakes if desired, but it's a hearty and filling casserole that the whole family can enjoy. The best part? It doesn't take too long to prepare.
Recipe $8.99 / Serving $0.75
I use leftover spaghetti in this recipe because 1) it's impossible to cook only 4 servings of spaghetti at one time and 2) reheated spaghetti is boring. This recipe jazzes it up and turns it into something flavorful and unique, making it fun to eat again.
Recipe $9.87 / Serving $1.65
I practically live off of sheet pan chicken dinners because they're so convenient. Starches, protein, and veggies all perfectly cooked and in one place? Yes, please!
$8.64 Recipe / $1.72 Serving
We like to serve our enchiladas with a ($1.00) can of cheap refried beans and some homemade Salsa Rice ($2.43). While it might bring our total to a little more than $10 for dinner, it usually provides leftovers for lunch the next day, so we feel the price is justified when we calculate it "per meal."
Recipe $8.33 / Serving $1.39
In this recipe, I use my homemade cream cheese alfredo sauce (linked above) and turn it into a delicious meal with some cooked chicken breasts. It's savory, comforting, and delicious. Serve with a ($1.00) bag of steamed veggies, and you have a complete meal.
Recipe $8.56 / Serving $2.14
Tomato soup chili is thick and hearty and requires minimal ingredients or effort. It's great for using up cans of tomato soup that you may have on hand too. Serve with a ($0.60) box of Jiffy corn muffin mix and have a meal that the family will love.
I hope this list of cheap family dinners has helped you to create a wonderful meal plan that fits within your budget!